T-SQL Tuesday - Assumptions, and Wisdom
08 July 2014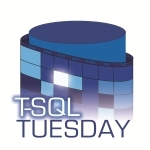 It's T-SQL Tuesday today. The topic: assumptions, things that are accepted as true, without proof.
There are some great posts to read.
There is some amazing wisdom in these posts. I'd recommend reading each and every thing here. Twice. Don't assume you already know these lessons (see what I did there?).
About T-SQL Tuesday
T-SQL Tuesday was started by Adam Machanic ( Blog | @AdamMachanic ) in 2009. It's a monthly blog party with a rotating host, who is responsible for providing a new topic each month. In case you've missed a month or two, Steve Jones ( Blog | @way0utwest ) maintains a complete list for your reading enjoyment.
Thanks for blogging, and for reading!